Could a few hours save you thousands?
For a one off investment of £350 you get 6 months support to make sure that the smoking has been banished for good. So even if something unexpected comes along you know you still have the support to help prevent a possible relapse.
Unfortunately, it can take only one​ cigarette to be completely hooked again and this is why many other smokers eventually fail. SCT gives you that extra​ safety net to just make it easier and more likely to stick, for good !
SCT is a premium service. I really want you to understand the nature of the problem (why it was so hard to stop), have strategies and techniques to deal with the underlying reasons you are still smoking now and a moment of clarity where you KNOW you no longer need to smoke and more importantly, don't WANT to to smoke, again.
6 months support. As many sessions as required PLUS help and advice via text, email, phone.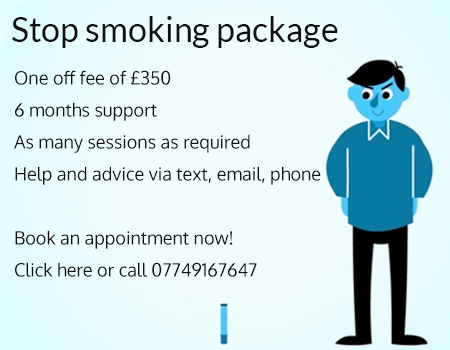 Why is it an investment?
It's a small price to pay considering the financial returns and health benefits.
Most smokers tend to sacrifice between £2000 and £3000 per year on the smoking.
On this basis, the return on investment for £350 is only about 1.5 months, thereafter the ex smoker gains £2000 - £3000 every single year that you would have continued to smoke. There are few investments which give this return effectively tax free Since I stopped smoking, I conservatively estimate I have saved over £40000
Statistically, on average, a smoker loses up to 10 years of life - the question you ask yourself - is it worth the sacrifice?
The decision is yours, but I'm here to help should you decide to to turn the tide and beat the smoking.
Other Services
All charged at £60 / session (4 or more sessions booked and paid for in advance £50 / session).
Weight Loss
Phobias
Stress and Relaxation
Struggling to find a unique gift for Christmas or a Birthday?
Special Offer
Why not buy them a hypnosis session for deep relaxation!
1 hours relaxation hypnotherapy session for only £25
Special Offers
Because stopping smoking is so important for some people, I am currently offering my services for free or at a significant discount (subject to availability) for the following:
Type 2 diabetic - only £30 per session.
(type 2 diabetics already have a high risk of serious health complications which are further increased by smoking)